Blockchain & Bitcoin Conference Stockholm Will Feature Representatives of Top Worldwide Companies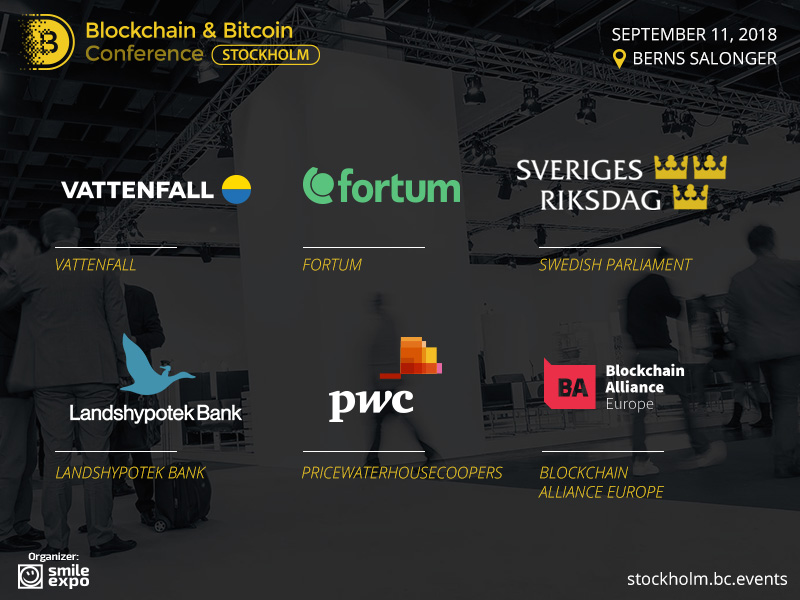 On September 11, Blockchain & Bitcoin Conference Stockholm will gather leading crypto experts from top world corporations. Organizer — Smile-Expo company – has invited representatives of the most influential organizations to present information at first hand.
Swedish Parliament
The conference will be visited by Mathias Sundin – the member of Swedish Parliament from the Tax Committee and the Finance Committee. The Parliament of Sweden (Riksdag) is the country's legislature and decision-making body. Riksdag's member Sundin was the first politician to accept campaign donations in BTC.
The Landshypotek Bank
Innovative DLT applications will be discussed by Merete Salmeling, the Head of Digital and Innovation at The Landshypotek Bank – one of the largest financial institutions in Sweden. Landshypotek Bank has several unique offers as it is financing investments of farmers and foresters. With several other organizations, the bank also takes part in the DLT-based project aimed at simplifying the process of purchasing property.
PwC
Blokchain & Bitcoin Conference Stockholm has also invited Dr. Guenther Dobrauz, Partner & Leader at PwC – the international firm offering financial services and consultations. PwC is in the Big Four accounting firms and is regarded as one of the FTSE 100 companies. The corporation closely works with DLT – it sees a big potential in blockchain and helps other firms providing advice for its integration.
Blockchain Alliance Europe
Also, discussions will be joined by Tanja Bivic Plankar, the President of Blockchain Alliance Europe. The organization is non-profit and it aims at uniting European companies for further development of DLT. The alliance enables DLT-based companies' cooperation and increase in the DLT importance.
Vattenfall
Amira El-Bidawi, the representative of Vattenfall, will join the event as well. Vattenfall is the power company which belongs to the Swedish state. It is one of the leading Europe's energy companies, providing electricity, heat and gas in Denmark, Germany, the Netherlands, Finland, and U.K. The company integrates DLT into its work processes – in 2017, it has established cooperation with 22 energy trading firms in order to build a P2P trading system.
Fortum
Fortum's representative, Tobias Goodden, will also peak at the conference. Fortum is another energy company with the main focus on Nordic and Baltic countries. The organization provides a unique DLT-based solution for its customers – it allows the online control over the electricity consumption in connected homes. The offer helps company's clients to lower their electricity bills.
Use an opportunity to meet with representatives of the leading and trusted world corporations and learn more about blockchain from experienced experts!
---
Meet new speakers and key news of the conference