Content of Public Blockchains May Be a Great Resource for Journalists – Walid Al-Saqaf, Lecturer in Journalism & Blockchain Expert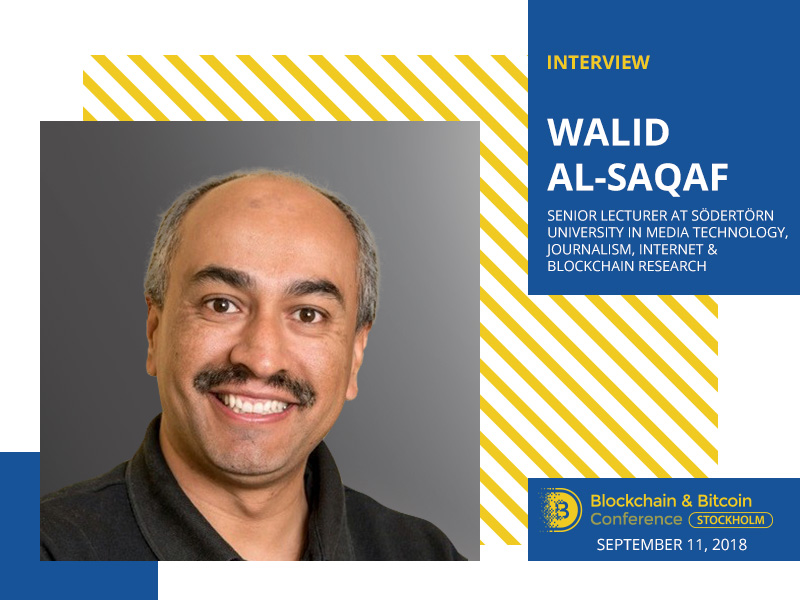 Blockchain will help to assess the credibility of journalists globally over time, believes Walid Al-Saqaf, journalism and blockchain expert.
Walid Al-Saqaf is a Senior Lecturer at Södertörn University in media technology, journalism, Internet & blockchain research. In the interview for Blockchain & Bitcoin Conference Stockholm, the expert explained the advantages of blockchain for journalism, analysed the technology's role in the concept of free speech and addressed challenges of integrating DLT into newsmaking sphere.
Interviewer: Blockchain & Bitcoin Conference Stockholm (BCS).
Respondent: Walid Al-Saqaf (WAS).
BCS: Hello, Walid. How do you think will blockchain help to fight against journalists' false reports?
WAS: One area I personally find useful is the establishment of a global record stored on a blockchain, which will contain false reports that have been fact-checked and verified to be false by reputable organizations.
Blockchains are powerful in preserving timestamped data entries that are immutable so it could be a global reference that may help to assess the credibility of journalists over time. It may also serve as a deterrent to those who take journalistic responsibility lightly by publishing false reports since their reputation will be on the line.
---
BCS: How does the experience in the IT sector allow you to see the future of newsmaking?
WAS: I can't see the future of newsmaking, but it helps me to identify potential technologies that could open doors for journalists to work better and have an edge in their reporting. For example, my technical skills in blockchain analysis allow me to explore data on the blockchain in ways that traditional journalists may not be able to.
I believe that media companies should begin training data journalists to explore ways of analyzing the contents of public blockchains, which could be a great resource in the future, which I predict will see a proliferation of blockchain applications.
---
BCS: What existing examples of blockchain in newsmaking do you know?
WAS: In my research in this area, I came across several projects that have started utilizing blockchain technology in journalism directly or indirectly such as Trive, DNN, Snip, Civil, PressCoin, Userfeeds.
---
BCS: In your opinion, will blockchain become a tool for repression of free speech instead of encouraging the concept of free information?
WAS: Like the Internet or any other technology for that matter, blockchain technology can be used for repression just as it can be used for liberation. One concern I have is the risk of having governments promoting the use of blockchains that allow tracking data and linking it back to end users.
As we know, the bitcoin protocol is not good for privacy protection since it is meant by design to expose all the transaction sending and recipient addresses as well as the amounts sent and received. Theoretically, it is possible to track the IP addresses of those using a public blockchain, which may in some cases be dangerous, especially for activists. So, one remedy for that is to consider more privacy-oriented blockchains such as Monero and ZCash.
---
BCS: What are the major challenges of integrating blockchain solutions in the newsmaking sector?
WAS: I think the biggest challenge is the fact that journalism has always been built around the idea of gatekeeping and it is very difficult to break away from that. In other words, journalistic content would generally be in need for assessment by peers with higher qualifications in the journalism domain and with a truly peer-to-peer journalistic content producing system, such a hierarchy cannot exist.
Instead, there may be a need for a reputation-based system where other peers rate other journalistic content and offer suggested changes similar to the way Wikipedia works. However, unlike Wikipedia, journalistic articles need to be held to a higher degree of accuracy and accountability and should be timely and prompt, posing a challenge in terms of how many hours one can put to have peers or readers checking each article.
Another challenge, in my view, is the immutability aspect on the blockchain. Journalistic content published on blockchains need to be updated/modified to fix errors before they get read widely or republished in traditional forms. There are ways to address this, but it will add another layer of complexity to journalism projects on the blockchain.
Finally, it is quite obvious that financial sustainability for a blockchain-based newsroom project will have to rely more on what is called 'crypto-economics'. And since the cryptocurrency or token's value on the platform used for the project is vital, it carries all the vulnerabilities of cryptocurrencies such as instability and wild swings in price as well as many regulation-related challenges. This may be resolved in the very long run when there is critical mass adoption of cryptocurrencies, making the price changes marginal.
---
BCS: What types of newsmaking will be the first to integrate blockchain: print media, TV, radio, or online mass media? Why?
WAS: From my observations, it appears that online journalists would be among the most enthusiastic to join the blockchain bandwagon as it comes natural to them since they are digital natives in some sense. Blockchain transitions in their case may also be safer since they would likely be familiar with the online security threats that they need to consider, which is an important consideration when venturing into the blockchain and cryptocurrency space.
---
BCS: What will you talk about at Blockchain & Bitcoin Conference Stockholm?
WAS: I plan to showcase some of the research I am doing on blockchain's potential in disrupting journalism and explain the need for media corporations to carefully consider adding more competence to their workforce to deal with the emerging blockchain phenomenon. It will help them to remain relevant and not end up having to play catch up as they did when Internet use reached critical mass decades ago.
---
Walid Al-Saqaf will become a speaker at the Blockchain & Bitcoin Conference Stockholm. The expert will take part in the panel discussion "The Era of New Technology: Blockchain in Various Spheres," where he will talk about the blockchain in journalism.
Use an opportunity to meet the crypto specialist at the conference and discover the innovative technology's application!
---
Meet new speakers and key news of the conference