Dash to present its revolutionary product at Blockchain & Bitcoin Conference Stockholm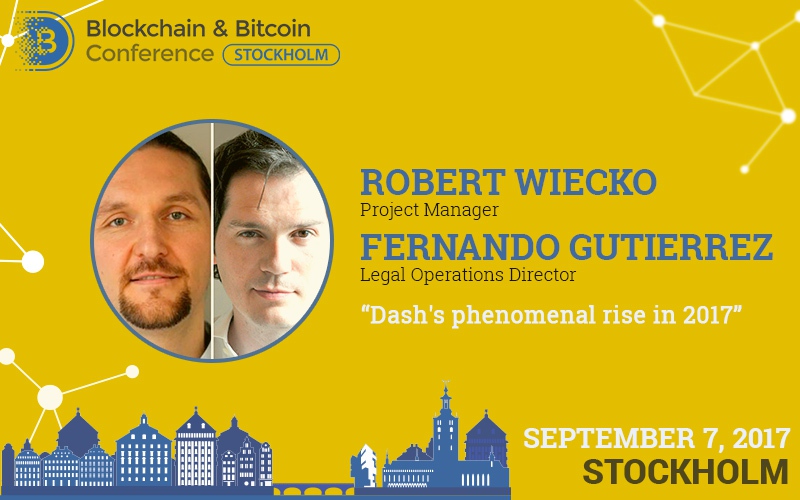 At Blockchain & Bitcoin Conference Stockholm, the main speakers will be representatives of Dash whose cryptocurrency hit top 5 capitalization rate.
Robert Wiecko, Dash Project Manager, and Fernando Gutierrez, Dash Legal Operations Director, will tell about one of the highly anticipated blockchain projects in 2017 – Dash Evolution payments system. Apart from the presentation, commercial and customer solutions of the company will be considered as well.
Dash is bitcoin blockchain based but contains improvements, which provide it with a number of advantages: Dash fits all the bitcoin infrastructure, however, its transactions are much faster. In order to increase the speed, Dash developers used an innovative solution – a two-tier network.
Dash Evolution is the company latest development, a cryptocurrency payments system whose release is scheduled for 2018. It will eliminate all the user-facing technical complexity of cryptocurrency, delivering clean and user-friendly experience to users of such popular e-payments services as PayPal and Venmo. Consumers will have the ability to log into an account from any device with a password. By the way, decentralization makes it possible to fully control your money.
In the long run, Dash will bring the cryptocurrency to mainstream adoption. It is anticipated that the transaction price (as well as cards service charge and transaction commission) will significantly decrease compared to the same services of fiat money.
Be the first to know about payments systems of the future: buy a conference ticket!
Meet new speakers and key news of the conference