Director of Future Business at Nordic Choice Hotels Christian Lunden Will Explain Blockchain for Hospitality Industry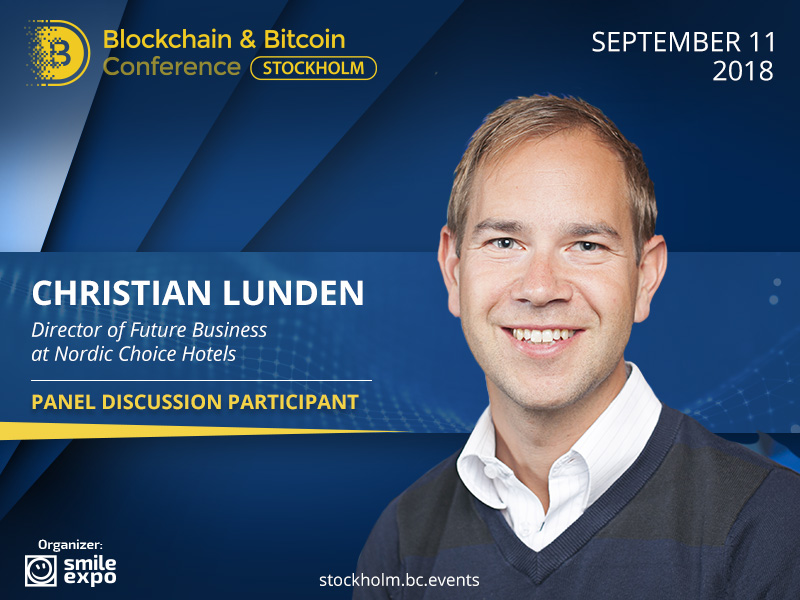 Current hotel industry may face some difficulties – ineffective booking, long payment processes and lack of trust. How can these problems be solved with DLT and what changes does the technology bring to hospitality industry in the future?

The questions will be discussed at the Blockchain & Bitcoin Conference Stockholm. During the panel discussion "The Era of New Technology: Blockchain in various spheres," Director of Future Business at Nordic Choice Hotels Christian Lunden will pay attention at DLT for hotel industry, providing innovative solutions.
Christian Lunden is the expert in hotel management and innovative technologies. Currently, he is the Director of Future Business at Nordic Choice Hotels – one of the largest hotel chains in Scandinavia.
At the organization, the speaker acts as the strategic advisor and introduces new technological solutions for both team members and visitors in all 195 hotels of the group.
Nordic Choice Hotels is the group of innovative hotels which plans to utilize DLT for adding new services and improving the existing ones – lowering distribution costs, for example.
In April, 2018, Lunden has stated that hotels were testing to put their room inventory on blockchain. Moreover, the organization plans to let the guests start using the platform with the help of DLT.
The expert has been working in hospitality industry since 1993 – he also has experience of operating Winn Hotel Group and managing Park Inn by Radisson.
Meet the speaker at the conference and discover the innovative use of blockchain for the hotel industry!
---
Meet new speakers and key news of the conference