DLT for Medical Sphere Improvement: COO & Co-founder at WarOnCancer AB Sebastian Hermelin Will Analyse the Issue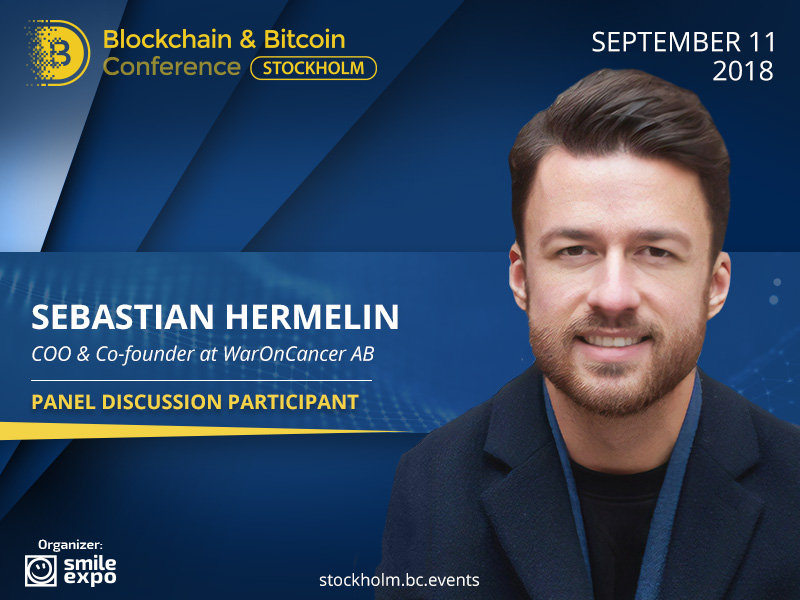 Medical industry has several existing problems which make both providing services and getting treatment inconvenient. How can the healthcare sphere be improved with DLT and what exact processes can be changed with the technology?
The questions will be answered at the Blockchain & Bitcoin Conference Stockholm. COO & Co-founder at WarOnCancer AB Sebastian Hermelin will take part in the panel discussion "The Era of New Technology: Blockchain in various spheres" and will provide DLT use cases in medicine.
Sebastian Hermelin is the DLT expert with the experience of working in consumer retail, media and financial sphere.
The specialist has been one of the founders of WarOnCancer AB, where he currently has the position of COO. The organization is a digital health company with the aim of uniting patients all over the world and improving well-being of all people affected by cancer.
At the company, the speaker is accelerating healthcare through innovative research and treatment programs. He is also working on the improvement of the disease's understanding by connecting the already reported data with partners from the biopharmaceutical and healthcare industry.
As the WarOnCancer AB's member, Hermelin takes part in the development of new projects – among them the DLT-based "Blockchain to Empower Patients" project. The aim – to create the new way of collecting data about patients in more continuous and sustainable way.
More than that, the organization is working on the new WarOnCancer App development – a platform for people fighting cancer and their closed ones to find each other and connect, as well as to provide and receive inspiration.
Use an opportunity to meet the DLT professional at the conference and discover more about the technology's ability to improve the medical sphere!
---
Meet new speakers and key news of the conference