Energy Regulations Should Meet Capacities of Innovation – Catharina Geiselhart, Senior Consultant at PwC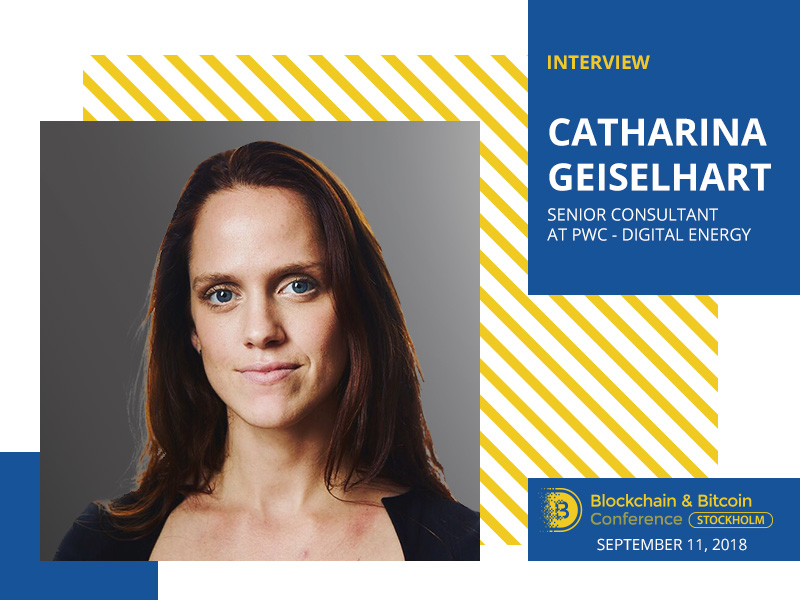 "Blockchain is a powerful tool for a more stable, sustainable and democratized energy system," believes Catharina Geiselhart, Senior Consultant at PwC and Digital Energy expert. In the interview, the specialist talked about existing difficulties in the energy sector and explained how DLT can help to solve them. She also explained the connection between blockchain for energy industry and crypto mining, and analysed Swedish market energy regulations.
On September 11, Catharina Geiselhart will become a speaker at the Blockchain & Bitcoin Conference Stockholm. She will take part in the panel discussion "Blockchain in the energy sector" and talk about the technology's potential influence on the industry.
Interviewer: Blockchain & Bitcoin Conference Stockholm (BCS)
Speaker: Catharina Geiselhart, Senior Consultant at PwC and Digital Energy expert (CG)
BCS: As an expert in the digital energy sector, tell us about the current problems of this industry. How can Blockchain help to solve them?
CG: Governments have new ambitions for electric power systems. Many are requiring these systems to rely as much as possible on volatile wind and solar power; several are also aiming at a high share of electric vehicles, which can strain grids. Complicating the matter further, customers are installing their own equipment (from solar panels to batteries and smart appliances) to control their production and consumption of electricity.
Blockchain could play an important role in helping to manage increasingly complex electric power systems, thanks to frictionless, secure, and transparent transactions. Now, most of the blockchain projects across the world are testing decentralized, peer-to-peer energy trading, for example, enabling owners of PV systems to trade with peers in a microgrid configuration.
---
BCS: The energy trading branch of Vattenfall has already tested blockchain in 2017. What do you think about that trial and how can you evaluate the blockchain use for energy sector?
CG: Vattenfall is a very innovative company, which embraced every challenge of a rapidly changing electric power system with various projects and new products for their customers. Blockchain as an underlying technology is giving companies like Vattenfall food for thoughts regarding their position in a changing energy market.
Many companies are testing the technology by doing trades or small proof-of-concepts. It is now time to think about the business model where Blockchain brings a benefit compared to other existing technologies and which will answer a concrete need for companies, and also for consumers and private producers. For now, very few projects are really reshaping the face of the energy sector today.
---
BCS: How do you think adoption of DLT in energy sector will influence cryptocurrency mining?
CG: Not all Blockchain networks are created equal. Bitcoin's consensus protocol, the mechanism by which the computers in the network validate and agree upon transactions, is a "proof-of-work" (PoW). Miners solve a complex equation and prove it to the rest of the network. Though inherently energy-intensive, PoW has the benefit of setting an extremely high bar for validating blocks, making it exceedingly difficult to manipulate or corrupt the Blockchain.
The energy sector needs the Blockchain industry to move away from energy intensive networks and propose technologies working on proof-of-authority or proof-of-stake.
---
BCS: In your opinion, will blockchain be able to meet the existing regulations of the energy market in Sweden? How can it be done?
CG: I think it should be more the other way around. Energy regulations should meet the capacities of new technologies and innovation as a whole. Still, the current situation of regulators must be very complex, because they cannot change the law without being sure of the long-term potential of Blockchain.
A good start would be to offer more short-term innovation freedom to companies, start-ups and organizations through regulatory sandboxes, so that they can prove the feasibility, the economic benefit and the market readiness of Blockchain-based business models. I am confident that if good innovative and precise work is done, the regulation will adapt. For that, we need to forget the hype and start building real things.
---
BCS: In your opinion, what prevents global blockchain integration into the energy sector?
CG: The biggest hurdle for now is the speed and scalability of the technology itself. If Blockchain does not prove its capacities in matching supply and demand directly and automatically, and if we cannot balance a microgrid faster than in the regular market communications system, companies will not invest in Blockchain.
Some start-up companies are working on new test networks and are trying to address the limitations of the technology and understand its nuanced benefits for electricity grids and the energy sector as a whole. But nothing is proven by now, and no promises has been fully fulfilled. There is still work to be done before Blockchain can contribute to the energy sector at scale.
---
BCS: Could you briefly tell us about the points you are going to make during your presentation at the conference?
CG: I'd like to give an overview of how we see the future of the energy system shaped by new technologies like Blockchain and artificial intelligence. Based on current and valid projects, my key message is to prove that Blockchain is not only going to be a hype for the energy sector, but it is a powerful tool for a more stable, sustainable and democratized energy system. It is still in construction, but it is time for decision makers to be a part of it.
Meet with the expert from PwC at the conference and learn more about blockchain applications in the energy sector!
---
Meet new speakers and key news of the conference