How Can Blockchain Benefit Music Industry? Answer from Founder & CEO at Utopia Music Mattias Hjelmstedt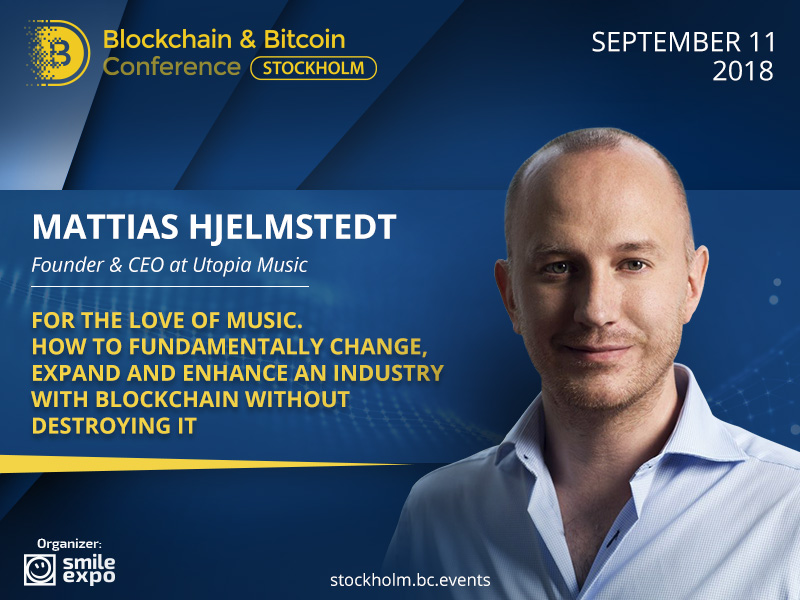 Traditional music industry lacks efficiency and sometimes presents difficulties for young performers to enter the sphere. How can blockchain change the standard operations of the sector and what advantages will it give to both music performers and listeners?
The questions will be addressed at the Blockchain & Bitcoin Conference Stockholm. The founder & CEO at Utopia Music – Mattias Hjelmstedt – will deliver a presentation and clarify the ways DLT creates a new music ecosystem.
Mattias Hjelmstedt is a serial entrepreneur and investor. He has been establishing innovative companies since 1990s, paying attention at such areas as online gaming, social media and computer technologies.
The speaker is also an expert in distributing content and streaming. With the aim to improve these spheres in the music industry, he has founded Utopia Music, where he currently has a position f CEO.
The DLT-based company creates platforms for artists and brands within the music sphere. The main goal – to provide performers with transparency, fairness and convenient payment system based on smart contracts.
Among the company's solutions – AI-powered Utopia Open Platform for establishing connections within the music world, and the app Nightopia which benefits clubs' experiences by connecting DJs and party managers.
Apart from that, the specialist was also a founder of Magine – innovative cloud-based service and digital OTT space leader which allows broadcasters to deliver live TV over the Internet. His company was named the "Best TV App" at the TV Connect Awards in 2014.
Don't miss a chance to find out more about blockchain in music from the expert at the conference!
---
Meet new speakers and key news of the conference