How Does Swedish Land Registry Work on Blockchain? Answer from Jörgen Modin – Chief Solutions Architect at ChromaWay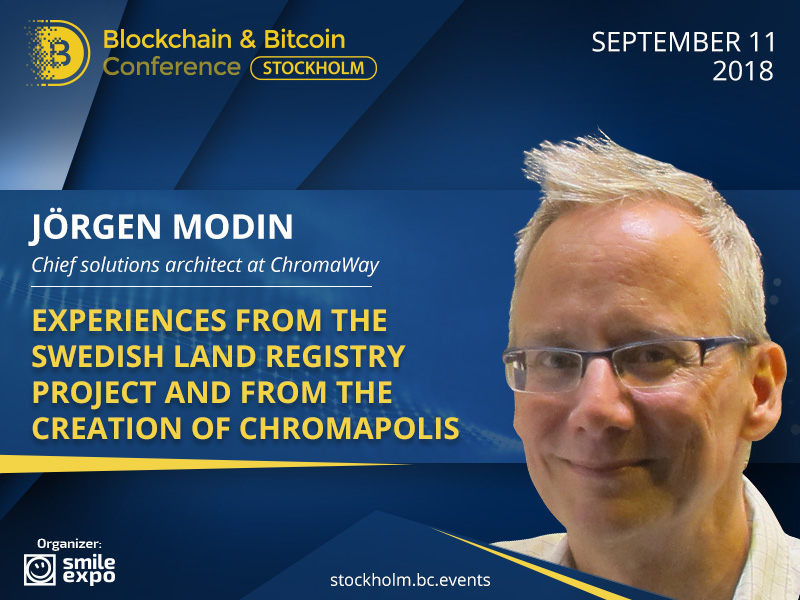 Real estate industry is disrupted by blockchain – the technology is integrated into the sphere's operations. How can land registry work with the help of smart contracts and what are the ways to create the decentralized database?
The questions will be addressed at the Blockchain & Bitcoin Conference Stockholm. Chief solutions architect at ChromaWay – Jörgen Modin – will share the experiences from the Swedish Land Registry project and talk about the creation of the innovative platform Chromapolis.
Key points:
• how blockchain smart contracts work for clients;
• smart contracts as documents;
• integrating blockchain into the corporate database;
• scaling the application of blockchain and its purpose – from small to big;
• Chromapolis: scaling and modelling with new tools.
Jörgen Modin is the expert in designing and delivering the Internet and Intranet software solutions. He has a broad experience in the field, also focusing on project management and Python and JavaScript development.
Currently, the specialist has the position of Chief Solutions Architect at ChromaWay – platform for smart contracts creation and assets transfers via blockchain. At the company, the speaker provides management consultations and leads innovative projects.
ChromaWay is considered a pioneer in developing the "blockchain 2.0" technology, mainly addressing finance and real estate industries. ChromaWay has been working with the Swedish Land Registry and other financial organizations to offer smart contract solutions for the real estate field. The company also took part in the development of Swedish e-krona proposal.
One of the innovative solutions of the company is the platform for DApps creation – Chromapolis. The project is still under development and its Whitepaper is set to be released on September 1, 2018.
Apart from that, the speaker has the experience of working in IT training, leading projects using extreme programming, and is also the certified Scrum Master.
Use an opportunity to meet the blockchain expert at the conference and learn more about DLT integration into real estate industry.
---
Meet new speakers and key news of the conference