Jincor: exhibition area sponsor and participant at Blockchain & Bitcoin Conference Stockholm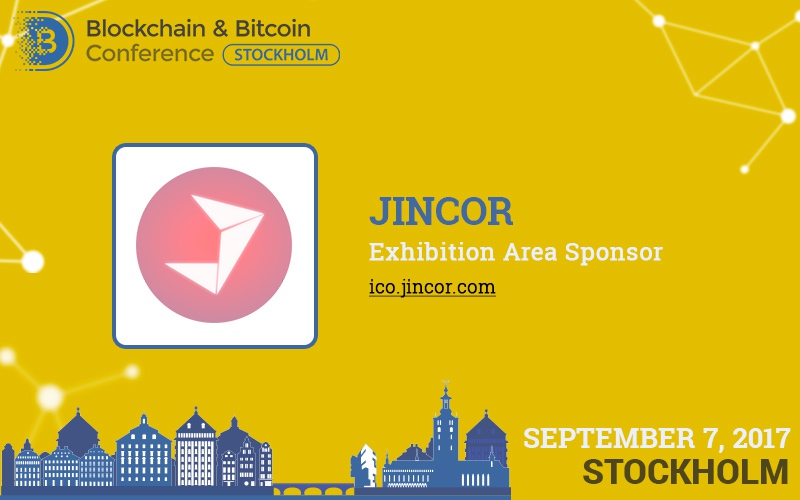 On September 7, the capital of Sweden will host Blockchain & Bitcoin Conference Stockholm for the first time.
Besides the conference, the event will also include an exhibition area: display of the latest technologies and mining equipment. Jincor blockchain ecosystem has become an exhibition area sponsor and one of its most outstanding participants.
Jincor provides companies with a safe and transparent environment for enterprise communication. The Jincor platform also allows to conduct transactions and implement smart contracts. Platform's main features can be described by dividing them into two blocks. On the one hand, it is a cutting-edge tool for corporate communication: using Jincor, employees of organizations are able to interact with each other and external partners, establishing new business contacts across the globe. On the other hand, it is a corporate blockchain, allowing to maintain e-document flow, conduct cryptocurrency transactions and create smart contracts for business procedures. Junicor communication is safe. The solution also has a system of digital profiles with identification.
Jincor's mission is to make blockchain technologies accessible to businesses and implement them massively in the corporate sector. The developers believe that application of the platform will significantly save time and money of its users.
At the exhibition within Blockchain & Bitcoin Conference Stockholm, you will be able to see the Jincor platform in operation and to communicate with its developers.
Meet new speakers and key news of the conference