Julian Hosp, TenX co-founder, to reveal secrets of efficient ICO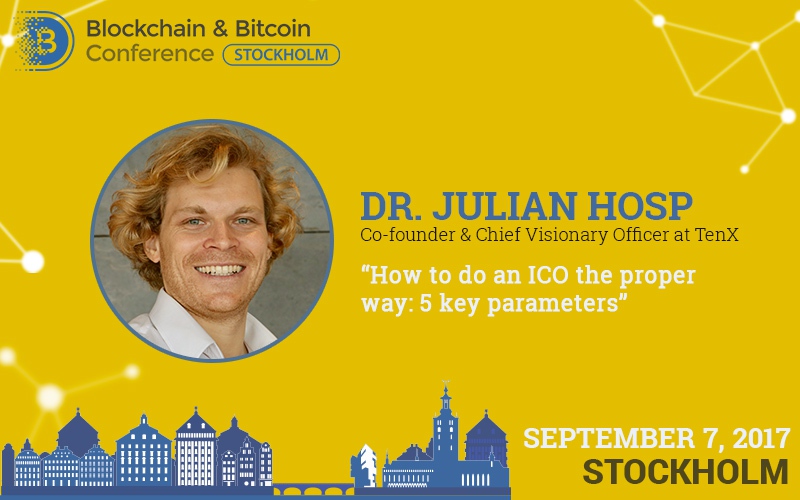 Julian Hosp will speak at Blockchain & Bitcoin Conference Stockholm. He is an iconic figure of the blockchain sector, a person who has united two worlds of cryptocurrencies and fiat money for the first time.
His TenX project is a service, allowing to pay virtual cash using a common banking card. Before turning the idea into reality, Julian Hosp has attracted venture investments and conducted an ICO, raising another $80 million.
TenX is a project that has successfully made the way from the idea to its implementation despite boldness of the concept and complexity of its application. The project provided the TenX team and its organizers in particular with the valuable experience. Thus, Julian Hosp is ready to share it with the audience of Blockchain & Bitcoin Conference Stockholm.
The speaker believes that an efficient ICO consists of five parameters:
Idea and competition;
Execution and Development stage;
Team;
ICO structure & legal aspect;
Marketing & Communications;
Community Building & Customer service.
Julian Hosp was named one of the top Blockchain and Cryptocurrency experts in 2017. He is a frequently invited speaker at numerous events dedicated to fintech and innovations as well as an author of articles and comments on blockchain and cryptocurrencies in various mass media.
Buy a ticket to the conference in order to discover all secrets of a successful ICO from the world-renowned expert!
Meet new speakers and key news of the conference