Leader of PwC Legal Switzerland Dr. Guenther Dobrauz to tell about legal challenges with innovations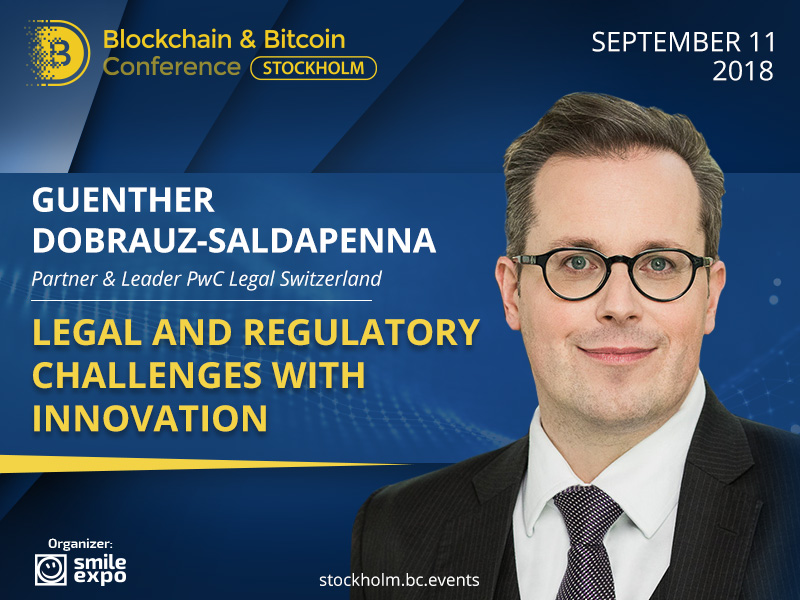 What legal challenges do emerging advanced technologies entail? Partner with PwC in Zurich and Leader of PwC Legal Switzerland Dr. Guenther Dobrauz will answer this question at Blockchain & Bitcoin Conference Stockholm scheduled for September 11.
His presentation will be titled: 'Legal and Regulatory Challenges with Innovation'.
Dr. Guenther Dobrauz is Leader of the subsidiary of one of the largest accounting firms known as the Big Four – PwC. He appears to be one of the world's top lawyers in the sphere of legal compliance for international financial companies with the focus on the regulation of the European Union and Switzerland.
Previously, the speaker worked as Senior Manager at another Big Four member – Deloitte. He has an experience on the venture market holding the positions of Legal Counsel at Hedge Funds as well as Managing Partner at the Swiss venture company.
The speaker is considered a trusted advisor at the governments of several countries and supervision agencies. Member of several European committees and working groups on financial market regulation.
Dr. Guenther Dobrauz is an author of eight books: five on European, Swiss, and Liechtenstein regulation, other three – on innovation. He also wrote dozens of publications for specialized legal and technological media.
---
Register to Blockchain & Bitcoin Conference Stockholm
Meet new speakers and key news of the conference