Martin Mischke: blockchain opportunities and real estate market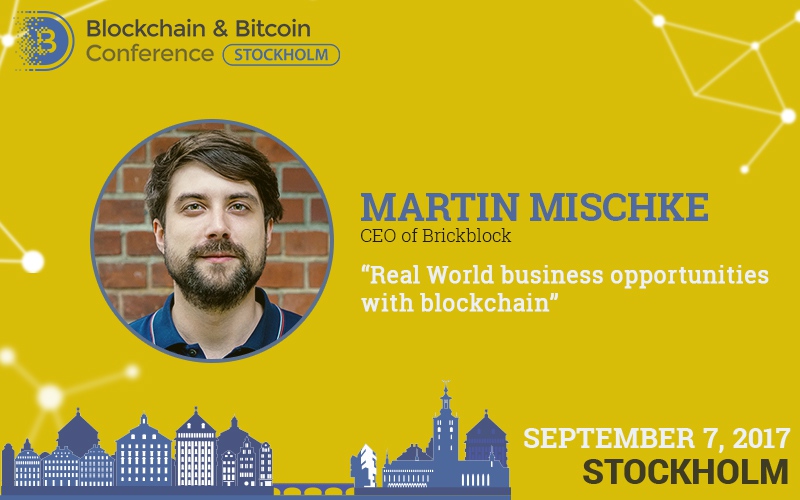 Our final speaker is Martin Mischke, the CEO at Brickblock. At Blockchain & Bitcoin Conference Stockholm, he will tell the audience about business prospects and opportunities of blockchain application and explain how this technology can change the approach to investing.
The main product of the company represented by Martin Mischke is a blockchain platform for traders called brickblock.io. It allows to earn on investments efficiently and minimize trading injections and expenses. Brickblock's CEO will dedicate his presentation to the real estate market, which remains a popular investment area and prospective sector for blockchain integration.
The speaker will reveal the following issues:
Blockchain technology and real estate market.
Cryptography in land deals.
One-click real property purchase: new opportunities due to blockchain.
Martin Mischke is one of blockchain and cryptocurrency enthusiasts as well as an active mastermind of technologies since their appearance. In 2012, he founded Europe's Bitcoin Startup Incubator. It was his first project among Martin's investments within the following years.
Martin was a co-founder of the Bitwala project, allowing to pay for goods and services using cryptocurrency at a favorable rate. Now, he is the founder and CEO of the major platform called Brickblock. It offers tools for traders and is integrated with various services, such as real estate trading resources and brokers. Mischke believes that he has to implement the blockchain on the global real estate market: it will make the purchasing process faster and reduce prices due to abandoning intermediaries' services.
Meet new speakers and key news of the conference