Most Promising Cheap Cryptocurrencies to Buy: Top 5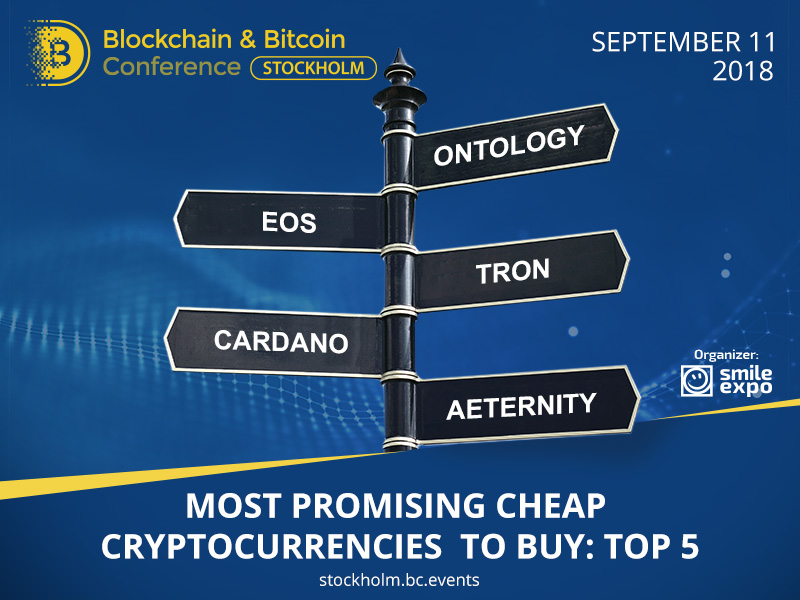 Crypto market keeps attracting investors. The most popular crypto coin – Bitcoin – is considered to be the one to choose for successful investment which will bring desired profits. However, Bitcoin may not be the best crypto to invest in for everyone – the price for one BTC is $6.774.
This is not the reason to give up investing and forget about attractive profits. CoinMarketCap says there are 1628 cryptocurrencies at the market, and also don't forget that new ones appear as well. There is a big variety to choose from but before, it is important to know the factors influencing the popularity and success of a digital currency.
Which currencies are becoming popular and what are the reasons?
Bitcoin has been put aside by several altcoins which are relatively new and cheap. To gain popularity, crypto coin should develop and become reliable. To become trusted, coin should launch platform innovations and cooperate with banks and other corporations.
Such altcoins as Ripple or Monero keep developing in a right way and causing interest in more investors. For instance, in 2017, Ripple expanded its cooperation with banks, currently working with more than 75 of them.
As for less well-known ones, the cheap coin Verge is gaining popularity as well. It is anonymous and very secure which increases investors' interest in it. The coin keeps developing: it is supported by a big number of cryptocurrency wallets and is listed in many exchanges.
Let's now move to the cheap coins with the biggest advantages which make them the most promising crypto in 2018.
Top 5 cheap and most reliable crypto coins:
1. Ontology
Ontology has been released in the end of March 2018, however, it is already in the list of top 30 market cap decentralized coins. The project was launched by the Chinese company Onchain as a tool for easy blockchain technology integration into companies' work.
The coin has a big advantage: it makes transactions anonymous which is an attractive feature for a lot of crypto users.
ONT has raised in price from $2.6 to $7.8 during one month. It was gaining value due to the appearance on the top exchanges. Currently, its price is $6.5.
2. EOS
This crypto coin was released at the end of January 2018, and the raise in price was noticed in April. In just 30 days the price has raised from $6 to $17.58, and the current price of the coin is $11.
EOS has no transaction fees – the great benefit which puts this coin over the others. Also, thousands of transactions can be processed in a second due to the Horizontal Scalability.
EOS is believed to be the main competitor of Ethereum, and evaluating the increase in the amount of people buying it, investors believe in the EOS' bright future.
3. Tron
Tron is a global platform allowing to build and store various applications. It is possible to create content and even launch your own crypto coins. The concept of the project is attractive and Tron developers come from Microsoft, Alibaba and Baidu.
Also, recently, Tron has acquired a big software company BitTorrent which is a great sign of the platform's development.
Currently, Tron is one of the top 10 market cap cryptocurrencies. It seems to be very promising, and it is also cheap – the price is $0.04.
4. Aeternity
The coin was launched in 2017 and experienced a big growth in April 2018 – the raise in price was almost 47%. Currently, the coin is quite cheap – the price is $2.78 – but it is quite promising.
Aeternity is similar to ETH in a number of ways but the main aim of this platform is to improve smart contracts in order to provide low-cost transactions.
AE fights scalability and security problems and has several useful features such as very fast small transactions and market forecasting. The concept of AE is to make crypto market better in general.

5. Cardano
Cardano was launched in 2017 and now gets a place in the top 10 market capitalization cryptos. The currency has a big potential for enlargement: it is based on open source technology and is easy to use.
ADA is listed on major world exchange platforms and has a cooperation with many companies, for example, it is backed by IOHK and supported by Emurgo.
The main goal is to create a decentralized currency of a new generation without any possible disadvantages. Experts believe Cardano is promising and is worth investments – the price is just $0,15.
Cryptocurrencies and all issues regarding digital coins and blockchain technology will be discussed by the top experts at the Blockchain & Bitcoin Conference Stockholm. Make sure to join the event and learn more about crypto coins!
---
Meet new speakers and key news of the conference