Swedish Parliament's Member Mathias Sundin Will Analyse How Powerful Decentralized Systems Are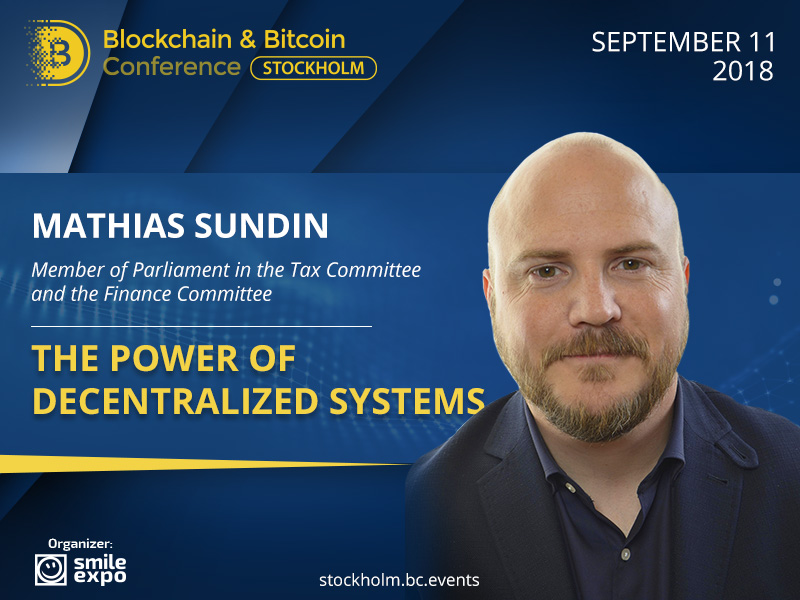 Why more industries today are getting decentralized? What advantages does decentralization bring and how does it make traditional systems stronger?
The questions will be answered on September 11, at the Blockchain & Bitcoin Conference Stockholm. The Member of Swedish Parliament in the Tax Committee and the Finance Committee Mathias Sundin will deliver a presentation and analyse the power of decentralized systems.
Key points:
• short-term strength of centralized systems;
• long-term strength of decentralized systems;
• why decentralized systems will win.
Mathias Sundin has a position in Parliament since 2014. He is a spokesperson for the Liberal party and he is dealing with Foreign Affairs. Moreover, the expert is a first person in a political sphere who has started accepting campaign donations in BTC.
The speaker is also a chairman of Goobit – Swedish company offering financial services, such as BTC exchange. Sundin has also joined the largest BTC exchange in Sweden – BTCX – with the aim to bring attention to the platform and help it to expand the business.
Apart from that, Sundin is a co-founder of Warp Institute where he is currently a chairman. The organization aims at revolutionizing the world with technology. The expert is also advising the fiNEST token (ICO) in USA.
Use a chance to meet with the crypto specialist and discover the power of decentralization at the conference!
---
Meet new speakers and key news of the conference