The Member of Swedish Parliament Mathias Sundin to speak at Blockchain & Bitcoin Conference Stockholm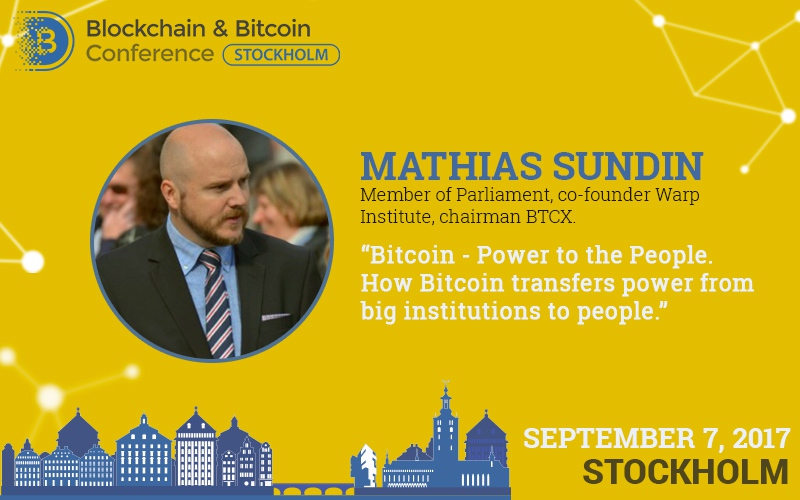 The Member of Parliament of Sweden Mathias Sundin – the world's first politician that ran his political campaign funded by bitcoin donations only – will make a presentation at Blockchain & Bitcoin Conference Stockholm.
Mathias Sundin is a Chairman of the Board BTCX, Sweden's first and leading provider of financial services for cryptocurrencies. He is also a founder and CEO of a number of startups since 2011.
Mathias combines the engagement in IT projects with the political activity. In 2012, he joined the Committee on the Constitution of the Swedish Riksdag (National Parliament) and in two years he was elected as the Member of Parliament (currently, he is a deputy member of the Committee on Finance & Committee on Foreign Affairs).
He is widely known as a parliamentarian that actively supports cryptocurrencies. Mass media call him a "self-professed Bitcoin enthusiast" and "the world's first political Bitcoin only candidate". During the elections to the Swedish Riksdag in 2014, Mathias became the world's first politician that accepted donations in bitcoins only. The main attraction of his election program was the suggestion to develop a tax system that would promote fast-growing, innovating companies.
The topic of Mathias Sundin at Blockchain & Bitcoin Conference: "Bitcoin - Power to the People". The politician will present his view on how Bitcoin transfers power from big institutions to people.
It is an excellent opportunity to ask the Member of Parliament a question about the regulation of cryptocurrencies and ICOs!
►►► Registration
Meet new speakers and key news of the conference