The Whole Truth About Being a Crypto Broker: Frank Schuil Will Reveal the Secrets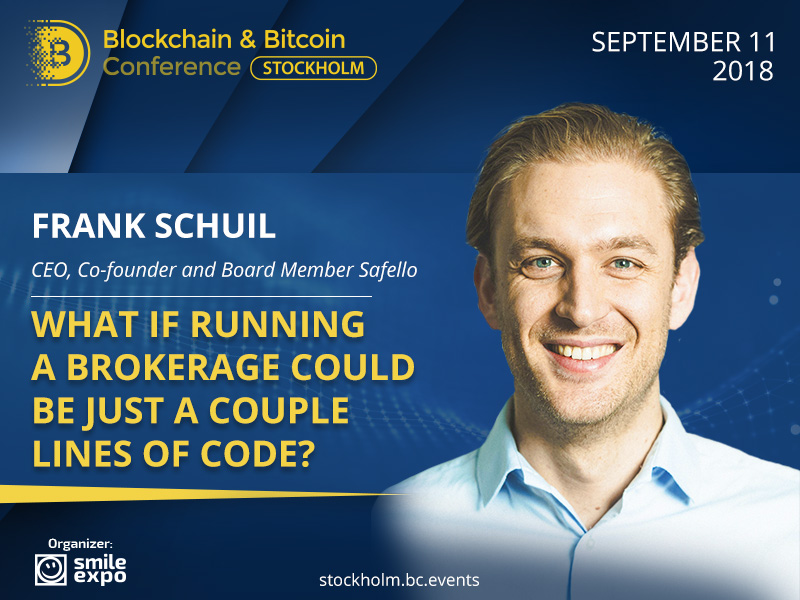 What difficulties can a crypto brokerage bring and what if running a brokerage could be just a couple lines of code? The question will be answered at the Blockchain & Bitcoin Conference Stockholm on September 11. CEO, Co-founder and Board Member Safello Frank Schuil will discuss the issue and present the whole truth about being a broker.
Key topics:
• what it takes to be a cryptocurrency broker;
• how to bring an entire business down to a couple of lines of code;
• applicability of brokerage API functionality.
Frank Schuil is an entrepreneur and crypto expert. Currently, he is a co-founder and CEO of Safello – the company aiming at bringing greater compliance and security to crypto industry.
At Safello, the specialist utilizes a user-friendly approach to attract customers in Europe to enter the crypto market in the easiest way. With this approach, users in Europe are able to buy and sell BTCs using just bank cards. The corporation has been already nominated the "best cryptocurrency company" by Techcrunch.
The speaker is also a founder of the investment firm Rhino Ventures where he has made early investments in digital coins and has participated in token sales of ETH and other altcoins.
At the present moment, he is also an advisor at ICON Partners and CG Blockchain.
Meet Frank Schuil at the conference and discover all the secrets about being a crypto broker!
---
Meet new speakers and key news of the conference